Professional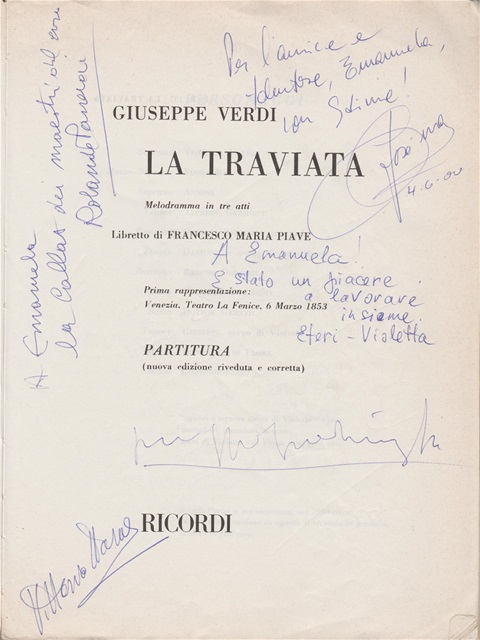 Emanuela Di Pietro,
Academic/professional (short) curriculum
Graduation "Magna cum laude probatus" in Gregorian chant and sacred music from the "Pontificio Istituto di Musica Sacra" (Pontifical Institute of Sacred Music) in Rome.
From the academic year 1992/3 to the present, Lecturer in Choral Repertory and Choir Direction at the "San Pietro a Maiella" Music Conservatory, Naples.
January 2011 teacher in the Master of Choir conducting and italian choral singing at the Conservatory of Boulogne Billancourt (Paris);

Qualified to teach 'Scenic Arts' at Music Conservatories

Teacher of Vocal and Choral practice at the IALS (Istituto di Addestramento per i Lavoratori dello Spettacolo) in Rome;

Autumn 2001 - Lecturer in Vocality and Choir Direction at the University of Naples;

Teacher at the Masters courses of Choir Direction and Choral practice at Cosenza and Sapri;

Qualified to teach in Higher School;

She attended the National Academy of Dance, Rome;

She attended La Sapienza University, Rome.
Artistic career
2013: she was Choir Conductor of the Verdi Festival in Beijng- (Requiem, Traviata, Rigoletto, Trovatore
and Gran Gala)
2012: Choir Master in "Cenerentola, una fiaba in diretta" RAI/Andermann production worldwide broadcast
live,Conductor: m° G. Gelmetti, Director: Carlo Verdone;
2010: Choir Master in "Rigoletto a Mantova", RAI/Andermann production worldwide broadcast live
conductor m° Zubin Mehta, director Marco Bellocchio, with Placido Domingo e Ruggero Raimondi;
2004-2008 Chorus master at the Teatro La Fenice Foundation, Venezia;
2003/2004 Chorus master at the Teatro Verdi Foundation, Trieste.
Since 1981 she has been Chorus master in important opera and symphonic seasons both in Italy and abroad, obtaining a universal acclaim from both audiences and critics. Her repertory runs from Gregorian chant through polyphonic singing to melodrama and contemporary music.
Abroad she performed in Jordan,Iraq ,Tunisia, Malta, U.S.A. , Canada ,France , UK , Switzerland , Argentina , Germany , Portugal, Salzburg Festival , Slovenia , Romania , Japan , China ;
In 1991 she was Chorus master at the Petruzzelli Theatre in Bari, and from 1992 conducted the choir for the opera and symphonic season at theTheatre in Lecce ;
In 1994 she founded the "Solisti Cantori" choir;
Since 1987 to 2001 she was Chorus master for the opera season at the "A.Rendano" Theatre in Cosenza;

She participated, as Chorus master, at the "Abbiati" awards of the '97 critics group (Rendano Theatre, Cosenza);
She conducted the choir in the "Eroine Pucciniane" television broadcasts from Lecce, created and presented by Pippo Baudo and broadcasted on Canale 5, with Katia Ricciarelli and with the participation of many of the leading singers in the world:
Together with Katia Ricciarelli, she prepared and conducted the "Città di Cosenza" children's choir for the Christmas concerts in 1998,
In 2000 she prepared and conducted the choir for "Traviata a Paris", conducted by Zubin Mehta and produced by RAI/Andermann, directed by G.Patroni-Griffi, which was broadcast live worldwide in 125 countries (Emmy Award and Prix d'Italie 2001).
In 2001 she conducted the "Scarlatti" orchestra and the "Solisti Cantori" choir, together with various soloists, at the Royal Festival Hall in London, and 26 other performances in the best-known English theatres, including then Edinburgh Festival , Glasgow , Bristol with the concert called "VIVA VERDI!! from Nabucco to Falstaff" , meeting great public acclaim.
She worked together many famous conductors like:
Abbado, Aprea, Arrivabeni, Benini, Bressan, Bonynge, Callegari, Carella, Carminati, Dantone, Franci , Gelmetti, Inbal , Jurowskiy ,Karajan, Kitajenko , Maag ,Maestri, Marriner , Martin, Masur , Metha , Morricone, Morandi, Netopil, Noseda , Olmi, Ono , Oren ,Palleschi, Panni, Pesko , Pretre ,Quarta, Reck, Rota, Scimone , Soudant , Tate , Viotti, Vizioli.
She recorded , always as chorus master , many CD and DVD.
Emanuela Di Pietro, via Principe Amedeo 149, ROMA 00185
tel.:+39 06 44 66 342
mobile:+39 347 80 23 895 -+39 3207782932
e-mail: m.emanueladipietro@gmail.com
www.emanueladipietro.com